Alert: Patient-Focused Drug Development Meeting – September 23, 2019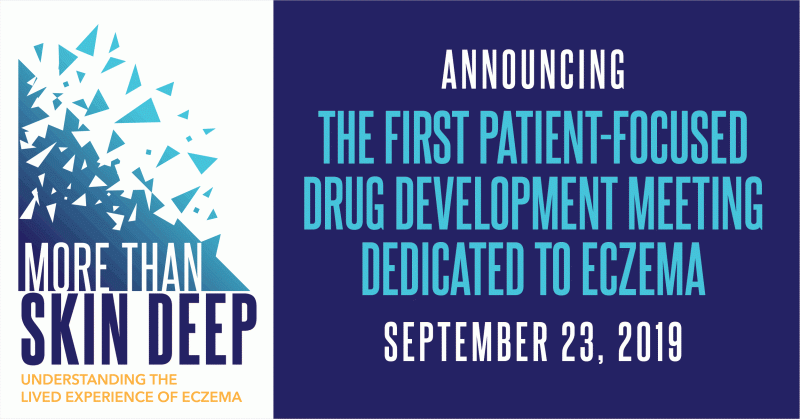 ITSAN is so incredibly excited and proud to announce this very special event!  For the past 8 months, we have been working tirelessly together with four nonprofit organizations serving the eczema community to launch "More Than Skin Deep" – a series of opportunities for your perspective to inform and shape the understanding of eczema and the development of drugs and medical devices designed to treat this condition.
A focal point of the initiative is a patient-focused drug development (PFDD) meeting to be held September 23, 2019 in the Washington, D.C. area. It will provide the eczema community an opportunity to speak directly to Food and Drug Administration (FDA) staff, representatives of pharmaceutical and medical device companies, and other key stakeholders.
The PFDD series began in 2013 as a way for FDA and clinical trial sponsors to understand more fully the burdens of living with a particular medical condition, what patients most value in terms of treatment benefits, and what risks and side effects they are willing to tolerate.
The "More Than Skin Deep" initiative is the first of its kind for eczema and we urge you to help make it as powerful as possible by contributing your perspective. A new website – 
www.MoreThanSkinDeep-Eczema.com
 – is dedicated to empowering people living with eczema and their caregivers and care partners. It provides 3 ways for you to get involved:
Complete the "More Than Skin Deep" survey – Your input will shape meeting discussion and will be included in the report that follows the meeting.

Signal your interest in attending the September 23 meeting in person – By registering and then completing a brief questionnaire, you'll help us ensure that participants reflect the full range of diverse experiences in the eczema community; travel support is available.

RSVP to participate via live webcast on September 23 – You'll be part of the discussion via live polling and "chat" features.
The collaboration among five organizations to develop this initiative is itself a landmark event for the community and for PFDD; it is among the largest coalitions of organizations to partner for one of these meetings. An example of how PFDD can benefit people living with eczema is to deepen understanding about all the ways in which eczema impacts people's lives – beyond the discomfort of having red, itchy skin that is so often the sole focus and especially how regular "eczema" can take a turn for the worse to develop into RSS by the current standard of care.
Please consider participating in this landmark effort by visiting the new website and taking one or more of the requested actions. Your voice and perspectives are essential for us to demonstrate that eczema and is "more than skin deep."
Let's DO this!!!
Kelly Barta, ITSAN President