About ITSAN
The International Topical Steroid Awareness Network is a nonprofit charity formed to raise awareness about a condition called Topical Steroid Withdrawal Syndrome, also known as Red Skin Syndrome or Topical Steroid Addiction.
ITSAN is the only 501(c)(3) non-profit charity serving the global TSW Syndrome community as a resource for the individual, the caregiver, and the healthcare provider. ITSAN has grown into a thriving world-wide online community where members comfort, share, and support one another.
ITSAN conducts outreach and member engagement through webinars, newsletters, social media, and moderated online support groups. We also participate in numerous national and international coalitions and advocacy initiatives to advance our mission.
Mission
To raise awareness of Topical Steroid Withdrawal Syndrome and support all affected individuals.
Goal
Prevention, early detection, accurate diagnosis, and proper treatment of Topical Steroid Withdrawal Syndrome.
How ITSAN Advocates for the TSW Syndrome Community
Please visit the American Academy of Dermatology's Patient Advocate Resource Center for more information about the partnership between members of the Coalition of Skin Diseases and the American Academy of Dermatology.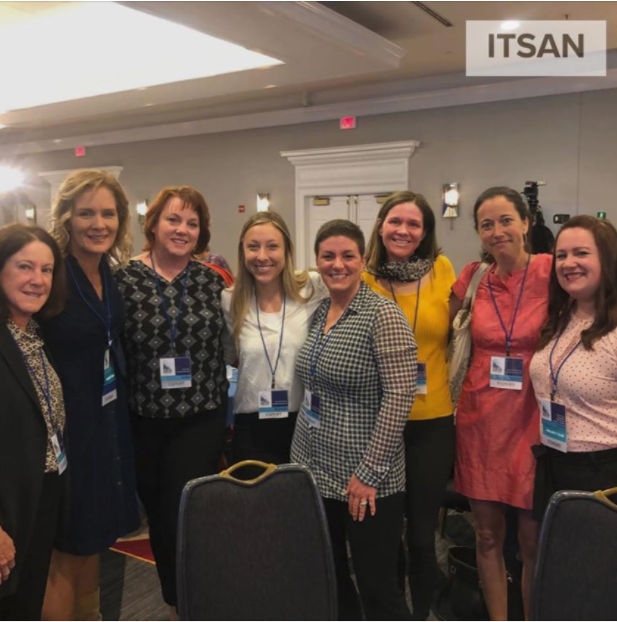 ITSAN board members and volunteers on September 23, 2019 at the More Than Skin Deep patient focused drug development meeting with the FDA near Washington, D.C. From left to right: Pam Friedman, Kelly Barta, Jodie Ohr, Rochelle Richter, Renata Feiner, Molly Evans, Jolene MacDonald, Kathryn Tullos
Looking ahead:
Patient registry: In support of research efforts and making the first estimate of TSW Syndrome prevalence
Physician registry: Connecting our patients with doctors who understand how to diagnose and treat TSW Syndrome is a top priority
Petitioning the FDA for labeling changes to drug inserts for topical corticosteroids
Board Members
All of ITSAN's Executive Board have either suffered from Topical Steroid Withdrawal Syndrome themselves or cared for a loved one who has.
Volunteer Executive Board:
Kathy Tullos, RN – President/CEO
Jolene MacDonald – Secretary/Executive Assistant
Jodie Ohr –  Treasurer
Michelle Li – Board of Directors
Kelly Barta – Board of Directors
Janelle Harris – Board of Directors
Alicia Fasciocco – Board of Directors
ITSAN Medical Advisory Board:
Dr. Koushik Lahiri, MBBS, DVD, FRCP
Dr. Patrice Faye Little, DNP, FNP-BC
Dr. Sandipan Dhar, MD, DNB
Prof. Marcello Monti
ITSAN is a Member in Good Standing of the Coalition of Skin Diseases
ITSAN is a Member of the International Alliance of Dermatology Patient Organizations
ITSAN is a Member of Derma Care Access Network