TSW Syndrome and Resources for Doctors
ITSAN is a member in good standing of the Coalition of Skin Diseases and an affiliate cited in the Patient Advocate Resource Center of the American Academy of Dermatology.  See the About ITSAN tab for more information on our professional affiliations.
This page is a resource for Healthcare Providers seeking answers from the experts about Topical Steroid Withdrawal Syndrome – also known as Topical Steroid Addiction and Red Skin Syndrome. 
Please read "Topical Steroid Withdrawal Syndrome – Time to Bridge the Gap" a recently published article in the British Journal of Dermatology calling for improved topical steroid prescribing guidelines and patient support.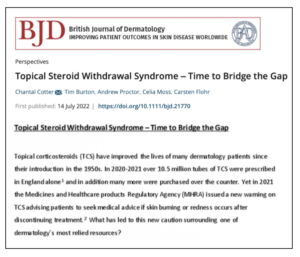 Please read this article on how to recognize TSW Syndrome, published by the National Eczema Association. Includes insight from eczema experts Dr. Lawrence Eichenfield, Dr. Eric Simpson, and Dr. Peter Lio.